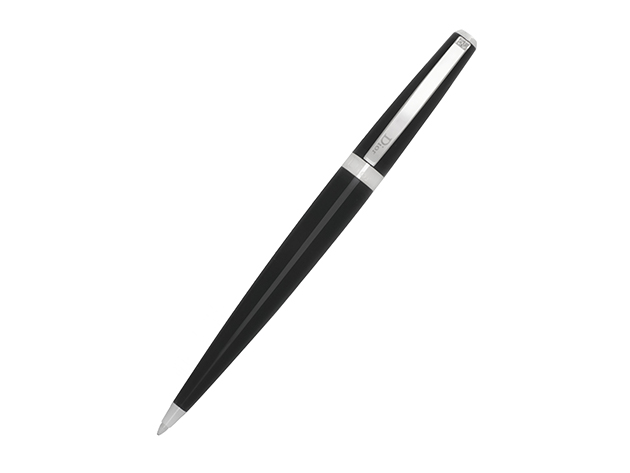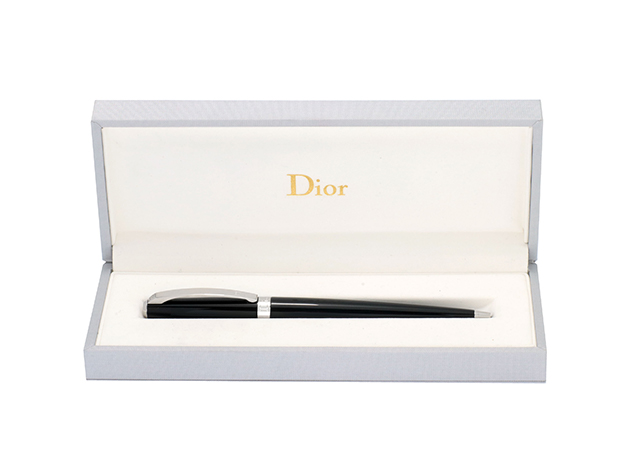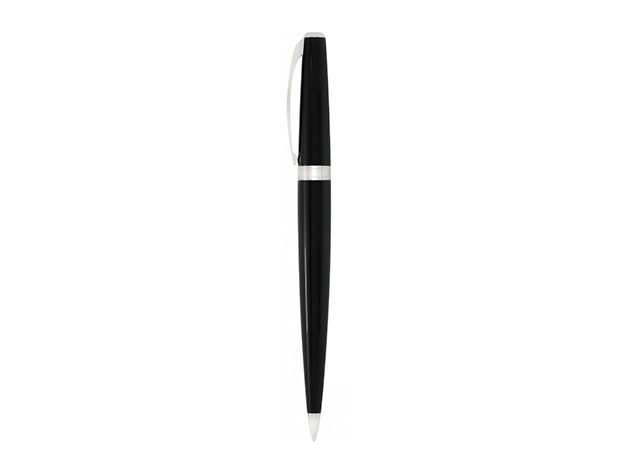 Dior Fahrenheit Nickel Palladium & Lacquer and Diamond Ballpoint Pen: S604-301B (Store-Display Model)
by Dior
Write Elegantly with This Luxury Pen's Full Lacquer Barrel & Nickel Palladium Clip with Diamonds
Description
Dior is a French luxury goods brand chaired by Bernard Arnault, CEO of the largest luxury conglomerate in the world, LVMH. Founded in 1946 by French fashion designer Christian Dior, it currently offers watches, jewelry, leather goods, fragrances, footwear, and even pens!
Dior Fahrenheit Nickel Palladium Lacquer + Diamond Ballpoint Pen (Black)
This sophisticated Dior ballpoint pen features a full black lacquer barrel with a polished nickel palladium clip accented with four diamonds. It also displays a signature Dior tip and ring. This pen is 5.5" long. It's convenient yet stylish so that you can write luxury anywhere. This fine writing instrument is shipped in a Dior box and uses a standard international ballpoint refill.
Authenticity Guaranteed. All Products are Store-Display Models, Sourced from Authorized Retailers. They've only been handled by staff and tried on by customers but have never left the store. Some have never left the store vault.
Features a full black lacquer barrel
Polished nickel palladium accented with four diamonds
Displays a signature Dior tip & ring
Embodies Dior's elegance & luxury
Uses a standard international ballpoint refill
Shipped in a Dior box
Specs
Specs
Model number: S604-301BR4
Color: black
Materials: nickel palladium, lacquer, diamonds
Length: 5.5"
Style: ballpoint
Filling system: standard international ballpoint refill
Nib size: medium
Signature Dior tip, clip, & ring
Unisex
Country of origin: France
Includes
Dior Fahrenheit Nickel Palladium Lacquer + Diamond Ballpoint Pen (Black)
Dior brand box
About ShopWorn
ShopWorn is an e-commerce platform offering authentic, unused, unworn luxury products secured directly from authorized retailers and brands to customers. When brands and retailers have unsold inventory, they contact the ShopWorn team to hand over hundreds of jewelry, watches, and luxury accessories that have never found a permanent home.
The ShopWorn team meticulously inspects every item, accepting only high-quality products with minimal blemishes. These blemishes are what makes the products "shop worn" as they're the result of being handled in a store -- or shop -- environment. "Shopworn" means the item has never left the store. Customers who buy from ShopWorn are the first customers to own the item.
Since ShopWorn only works with authorized retailers or directly with brands, every ShopWorn product is guaranteed to be 100% authentic. A ShopWorn customer need never wonder if a product has been refurbished using unauthorized parts or if it is a knockoff. The direct relationship between ShopWorn, brands, and authorized dealers alleviates any question of authenticity.
Shipping
Ships Internationally
Expected Delivery: Feb 12 - Feb 17
Expected International Delivery: Feb 17 - Feb 23
Terms
Returns accepted within 30 days of shipment for orders within the Contiguous US.